Sea Moss
New: Amb Day Spa and Wellness hub is now Selling Sea Moss.
Yanni's Caribbain Sea Moss
is wild harvested and Locally made!
Freshly made batch will be ready next week!

Pre-order your today below!
What is Sea Moss?

The Irish sea moss falls under the family of red alga. While different kinds of sea moss grow all around the world, especially in coastal regions, Irish sea moss is a native of the Atlantic coastlines. This includes the coastlines of Europe, North America, and various islands in the Caribbean.

Sea moss is a type of red algae that grows on the Atlantic coastlines of North America, Europe, and the Caribbean Islands. Since the 1800s, the Irish have been harvesting it from their rocky shores to use as medicine for common diseases. They even used it to get the nutrients they needed during times of famine. Jamaicans have also traditionally used sea moss to treat illness, and some have touted it to be the perfect elixir to increase libido. This superfood has gain popularity the US this year and here is why:

92 Micronutrients: Several researches have been done on Irish sea moss and most of the sea moss family have been identified to contain 92 trace minerals or also known as micronutrients in it. The quantity varies depending on the actual amount of sea moss consumed. The body actually needed 102 micronutrients daily for it to function properly. Micronutrients are those nutrients that support the body function in smaller quantities but have a large impact if lacking. You will get 92 out of 102 , which almost meets your daily nutritional needs without having to think about how to meet them. Their naturally prepared Irish sea moss is guaranteed to have preserved these 92 nutrients.

Collagen-Rich Food: Collagen is pretty much known this time because of it's excellent skin benefits and how the natural look has been taking over the current beauty industry. Collagen is the primary ingredient for healthier skin, hair, and nails. Irish sea moss is packed with collagen which helps improve the elasticity of the skin, making it look fuller and wrinkle-free. Daily consumption of Irish moss enhances the matrix in the hair, skin, and nails. Aso, because of the natural component of sea moss, it is absorbed by the body faster than other skincare products. Irish sea moss is packed with collagen to naturally hydrate the skin and improve its quality. Sea moss when processed well has no scent to it. It is also certified to have faster absorption than other topical products.

Alkaline Food: Alkaline foods are foods that can help you alter your body's pH. The body has been identified to be acidic due to several acidic foods in the diet. How can food affect the pH of the body? It is due to the metabolic waste of the food taken in the body. If you take more acidic foods, metabolic waste can be more acidic and can lead to other diseases.
At normal, the pH of alkaline ranges from 7.1–14.0. Although some parts of the body may naturally be acidic like the stomach, due to its function, the blood on the other hand should not be too acidic as it may lead to acidosis. Thus a good amount of alkaline food is essential to balance the pH of the body.

Contains Fucoxanthin:: Fucoxanthin is researched to prevent the absorption of unwanted fats in the body. It also greatly supports the digestive system. Sea Moss is also rich in probiotics which is essential in maintaining a healthy gut!

Iodine Source: Being an ocean superfood, sea moss is a natural iodine source. A good amount of sea moss daily would eventually promote healthier Thyroid, since Iodine is an essential nutrient for the thyroid, its normal level should always be maintained.

Vitamin B Source: Irish sea moss is a good source of vitamin B especially for Folate (B9) and Riboflavin (B2). A variety of Vitamin B are required by the body to help break down proteins, carbohydrates, and fats. Folate is very important in the form of folic acid for pregnant women. It is also necessary for the creation of red blood cells in the body.

Iron Source: In a basic 100g of Irish sea moss, 68% of iron daily requirement is met.. Iron is essential for hemoglobin formation. The heme binds the oxygen to be transported to the muscles and other organs. Lacking iron may lead to anemia and if untreated may cause chronic illness.

Magnesium: Sea Moss is a good source of Magnesium. How much sea moss to take daily? 41% of the recommended daily nutrient of magnesium is provided by a 100g of Irish sea moss. Magnesium is a primary calcium shuttle. It aids the absorption of calcium in the body which allows it to activate easily. Calcium as we all know is essential for bone building and maintenance.

Zinc: A good quality Irish sea moss is also a good source of dietary zinc. Zinc is important for many body functions such as for cell growth and cell division. Even in breaking down carbohydrates and wound healing, zinc plays an important role. Zinc also plays a good part in maintaining the immune system. A deficiency in zinc in the body can lead to a lack of attention, weak immunity, allergies, thinning hair, and even leaky gut. While there are many zinc supplements, research claims that the zinc is best absorbed through the diet, especially from whole foods.

Fiber-rich: It is known to almost everyone that fiber-rich foods play a good role in good digestion and cleaning of the digestion. In every 100g of Irish moss, is 10g of fibers. Irish moss has a laxative effect which naturally cleans the intestine and helps mobilize accumulated dirt in the large intestine.




Pre-Order your Sea Moss today!
​
Orders will be available for pick up next week!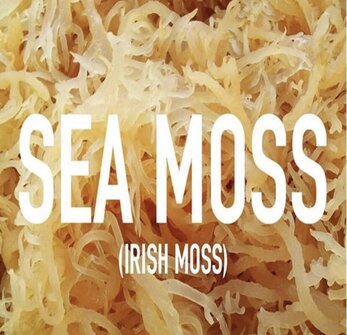 Irish Sea Moss Benefits:
Healthy Thyroid
Faster Muscle Recovery
Metabolism Boost
Good Digestion
Weight Management
Healthy Heart
Stronger Immune System
Improve Libido Function
and so much more
Thyroid Health:
The thyroid is an important organ in hormone management. Two main hormones the thyroid is responsible for managing are Thyroxine and Triiodothyronine which are essential for mental health, body functions, and more. While the thyroid cannot be compared to the brain in size, its function can't be discounted. A healthy thyroid also helps the effectiveness of the function of the following:
Digestive system
Heart
Cholesterol levels
Brain, mood and hormone balance
Bones
Muscle control
Reproductive organs
Nervous system
Metabolism
When your thyroid is not functioning well, there is the risk of hypothyroidism or hyperthyroidism. Thyroid disorders that are left untreated can progress to autoimmune diseases. A healthy functioning thyroid is also necessary for the development of unborn children.
Faster Muscle Recove
ry:
Irish Sea Moss helps muscles recover faster. Sea moss is made up of collagen proteins that strengthen and repair the connective tissues. The anti-inflammatory properties of sea moss help the body recover quickly after a workout. If you experience joint and or muscle pain, it will also provide relief and lubricate the joints
Metabolism Boost:
The metabolism is the process of breaking down foods and the distribution of nutrients to the cells. It is the process of food conversion into energy and distributes the nutrients to the cells. After the metabolism distributes all the useful nutrients to the cells, it converts the remaining or excess food into waste for elimination. A consequence of a good thyroid is actually a better metabolism.
Weight Management:
Irish sea moss benefits weight management through its organic fucoxanthin and fiber content. A good amount of fucoxanthin in the system actually helps suppress hunger. The naturally derived plant-based Fucoxanthin prevents the growth of fatty tissues and reduces abdominal fat. Partnered with a sizable amount of fiber in Irish sea moss, promoting a healthy gut. More so, a lower calorie intake ultimately leads to weight loss. It may also help to reduce or even eliminate cravings for processed foods, trans (bad) fats, sweet foods, and caffeine. The best method for sustainable weight loss is consuming a whole food plant-based diet and increasing your physical activity.
Heart Health
:
Taking sea moss daily can be associated with a reduction of the risks associated with heart disease. Necessary heart function is supported by minerals that are also abundant in Irish sea moss like the following:
Folic acid
Potassium
Vitamin D
Magnesium, and
Omega-3 Fatty Acids;
Stronger Immune System
:
Irish sea moss is filled with vitamins and minerals for the body to function well. Each vitamin or mineral assist the body in developing stronger immunity. Among the many other properties of sea moss we have listed some essential properties that help the immune system are:
Antiviral
Antibacterial
Antimicrobial
Anti-inflammatory
Anticoagulant
​Good Digestion:
A good and natural sea moss is accepted to have a high level of effectiveness in its benefits. Like the Irish sea moss of earthbal.com, it is packaged at its freshest which is no doubt the best type of sea moss in the market. Well aside from a good number of fibers, Irish sea moss is also with probiotics which help clean up the gut. It is also helpful by lining the intestine making bowel movement more efficient.
Libido Function:
A healthy reproductive system is another benefit of eating sea moss. With a good amount of Zinc, added with its naturally faster absorption, healthy libido and stimulation can be achieved. It also improves blood circulation through the body which eventually improves stamina.
How Much Sea Moss To Take Daily?
A healthy amount of sea moss added to the diet daily is around
1 to 2 tablespoons
. ​
Pre-Order your Sea Moss today!
​
Orders will be available for pick up next week!