Fertility Offerings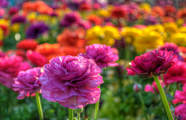 Testimonial:
​"I found Amb Day Spa online when I was searching for Yoni / V- steams. I was interested in trying all natural options for detoxing my womb and preparing for motherhood. I was very impressed with the website and once I spoke to Annette on the phone, I felt that I would be in good hands. Once I arrived, I was pleased with the very professional setting and welcoming decor. Annette explained all of the services available, pricing, and also gave history on the yoni steam as well. It was a full holistic approach and I felt very comfortable. I received the yoni steam on my first visit, and on my second visit, I did the castor oil pack and yoni steam. I did both appts a week apart and the day after the 2nd session, I conceived my son. I would recommend Amb Day Spa for any issues with fertility, fibroids, womb health and detox, as well as an overall holistic approach to women's health. I have had an amazing pregnancy and have had no issues after dealing with not only a prior miscarraiage but 4 uterine fibroids as well. Thank you Annette for your healing hands and I will definitely be back!!"
Nicole F.

Abdominal/Fertility Massage - Increases blood supply to the reproductive organs, specifically the uterus. Reduce stress, re-aligns the reproduction organs, helps to break up scar tissue and promotes hormonal balance. Balancing essential oils may be used. 90 minutes $110 (Includes castor oil pack)
60 minutes $80
"When the body is massaged, emotional stress can be released" Wilhelm Reich The body holds tension where emotional stress or trauma has occurred. He believed that by massaging the body to release the tension, the emotional stress is also released, allowing the life force to flow freely. ​


---

Castor Oil Pack - This external therapy consists of using warmed castor oil on cloth over the abdomen in order to stimulate blood flow to the area. This natural method may improve natural detoxification, break up scar tissue and adhesions, enhance fertility, support uterine and ovarian health, balance hormones, improve lymphatic circulation, and reduce inflammation. 30 minutes/$35
​
---

Womb Reiki - Reiki is an energy healing modality that can assist in clearing energetic blockages within the womb. It can also assist with: relieving distress, enhancing the Womb-Heart connection, sparking creativity etc. 30 minutes/$30
---

Yoni Steam:
This is a traditional steam. It is for strengthening and toning the womb and for relaxation, restoration, and renewal. Special herbs can be used to meet your needs and goals.
$60
What is Yoni Steaming? Click here.
---